Young people can only be employed on a full-time basis after they reach their compulsory school leaving date. This is always the last Friday in June in the academic year of their 16th birthday. This leaving date also applies to young people who are not sitting their GCSEs (or equivalent) and those who will reach their 16th birthday in July or August.
Under 16
There are strict rules governing the hours a child is allowed to work and the type of work a child can do.
It is illegal to employ a child under the age of 13, unless they are taking part in a paid performance, sport or modelling and in such circumstances you have to obtain a child performance licence
Children aged 13 may only be employed if your local authority allow it
If your local authority does allow it, the hours, times and types of work allowed may be restricted. You may even need a child work permit
Your local authority will have more information and support.
Hours of work
There are special regulations for young workers, which restrict their working hours.  The rest break is 60 minutes if their work lasts more than four hours. They are also entitled to two days off each week.
Young people under 18 cannot work more than 8 hours a day or 40 hours a week.
Children under school age must not work during school hours on a school day or for more than two hours on any school day. The rules are different for term time and school holidays.  More information can be found on the Child employment page of gov.uk.
If your employees are over 18, they will be classed as adult workers. Adult workers should not normally work more than 48 hours per week, unless they choose to, or they work in a particular sector where this may be necessary.
They are entitled to breaks in work:
Rest breaks – lunch breaks or tea breaks, or other short breaks during the working day
Daily breaks from work
Weekly breaks from work
There is more information on maximum weekly working hours at gov.uk
National Minimum Wage and the National Living Wage
The National Minimum Wage is the minimum pay per hour almost all workers are entitled to by law. It doesn't matter how small you are as an employer, you will still have to pay the National Minimum Wage.
The minimum wage rate will depend on how old a worker is and whether or not they are an apprentice. Workers must be at least school leaving age to get the minimum wage and at least 25 to get the National Living Wage.
Up-to-date information on the National Minimum Wage, who is entitled to it and current rates, is available at gov.uk
Equal pay and the Equality Act 2010
As an employer, you also have a responsibility under the Equality Act 2010, to ensure that a woman doing the same work as a man, in the same employment, receives equality in respect of pay and other terms and conditions. For further information please refer to the Equality and Human Rights Commission.
Health and Safety
As an employer, or a self-employed person, you are responsible for health and safety in your business. Taking the right precautions to reduce the risks of workplace dangers apply to all businesses, no matter how small.
For many businesses, providing a safe working environment, may only involve basic adjustments. The Health and Safety Executive will take you through the steps and help you make sure you have done what you need to.
Young people, especially those new to the workplace, will encounter unfamiliar risks from the jobs they will be doing and from the working environment.
Key risks for young people when starting work may arise because of their lack of experience or maturity and not having the confidence to ask for, or knowing where they can get help.
---
---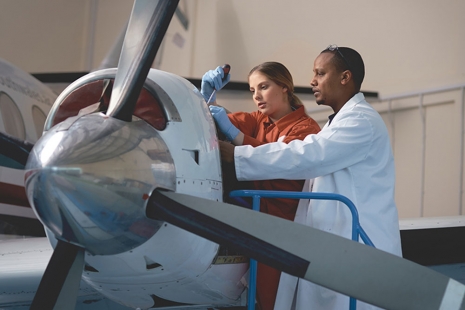 Apprenticeships - information for employers
Find out about funding for apprenticeships in Wales and how to advertise vacancies.