Use social media well and it could help you find a job. Find out how to make the most of your social media presence.
You can use social media to follow employers which interest you, to network and to find out about job opportunities. A company's Facebook profile or Twitter Feed will give you a feel for what they're doing.
Did you know if your social media profile has photos, it's 11 times more likely to be viewed?
There are also sites that allow you to create an online profile, like an online CV to help you market yourself to employers.
There are many social media and networking sites available, some specific to job searching. To use these, you will need to set up an account with them.
What you can do on each site varies. But, on all of them you can connect with employers and employers can connect with you.
Facebook is a way of advertising yourself and a place to find opportunities:
When you find a company which interests you on Facebook, you can 'like' their page and follow their news feeds for information including job opportunities. You can also post messages on their profile
You can use Facebook to advertise that you're actively looking for work. You can post on your own timeline and your friends' too. This is a great way of finding a job by 'word of mouth'
Use Facebook as part of your job search. Some companies now recruit only through Facebook, and some smaller companies don't have websites but use Facebook to promote their businesses and their job vacancies
Important things to consider when using Facebook to job search:
Be aware, potential employers may look at your profile before they offer you a job. So, look at your own profile and remove any posts and photos that are not appropriate
You may want to look at your privacy settings and set them to high or set up a separate professional Facebook account for job searching
Twitter can be a good way to find out about opportunities:
You can use Twitter  to follow organisations, hear about potential job opportunities, join in discussions, and post messages, which are called 'tweets'
You can also search within Twitter and set up news feeds using keywords such as 'jobs' to find out if there are any jobs advertised
Check out Twitter's very own job searching stream TwitJobSearch
Important things to consider when using Twitter to job search:
Remember that potential employers may view your Twitter profile and follow your tweets. It's best to ensure that your tweets are appropriate and professional
Job Centre Plus Twitter
Job Centre Plus have accounts that tweet vacancies and useful job search information covering all regions of Wales.
Job Centre Plus Twitter Details

| Local Authority Area | Twitter Account | Review Hour - Friday 11am-12pm |
| --- | --- | --- |
| Blaenau Gwent, Caerphilly, Cardiff, Merthyr Tydfil, Monmouthshire, Newport, Rhondda Cynon Taf, Torfaen, Vale of Glamorgan | @JCPinSEWales | #TheSEWalesReview |
| Swansea, Neath Port Talbot, Bridgend | @JCPinSwanseaBay | #SBayReview |
| Carmarthenshire, Ceredigion | @JCPinWestWales | #TheWestWalesReview |
| Denbighshire, Flintshire, Powys, Wrexham | @JCPinNEMidWales | #NEMidWalesReview |
| Conwy, Gwynedd, Anglesey | @JCPinNWWales | #NWWReview |
Other Job Centre Plus Twitter services include:
A Welsh feed for the whole region, which tweets in Welsh - @JCPyngNghymru
Spotlight hours, which focus on jobs and support available in specific locations:

Monday at 11am - #SpotlightRCT, #SpotlightSwansea and #SpotlightAnglesey
Monday at 2pm - #SpotlightMerthyr and #SpotlightWrexham
Tuesday at 11am - #SpotlightCaerphilly, #SpotlightNeath and #SpotlightPembs
Tuesday at 2pm - #SpotlightBG and #SpotlightGwynedd
Wednesday at 11am - #SpotlightCarms, #SpotlightTorfaen and #SpotlightPT
Wednesday at 2pm - #SpotlightMonmouthshire, #SpotlightConwy and #SpotlightFlintshire
Thursday at 11am - #SpotlightCeredigion, #SpotlightNewport and #SpotlightBridgend
Thursday at 2pm - #SpotlightCardiff&VOG and #SpotlightPowys
LinkedIn is a professional networking site where your profile is used to highlight your skills and experiences and work background:
You can use LinkedIn to connect with other professionals, for example, those who work in the same sector as you
Some companies use LinkedIn to search for candidates and advertise job opportunities. LinkedIn can match a vacancy to a user's profile, and you can set your account to receive email job alerts
Important things to consider when using LinkedIn to job search:
Make sure your LinkedIn profile is professional
Check that there are no spelling or grammatical errors
Be honest and accurate
Highlight your strengths, skills, and experience like you would in a CV. Visit Build a CV for help on CV writing. If you would like to explore your strengths further take the Buzz Quiz to find out your personality type and to help you identify your strengths for your LinkedIn profile
There are also other ways to promote your job history and skills. In the creative industry, for example, having a blog or using sites such as Pinterest, Tumblr and YouTube can give potential employers a visual snapshot of your work. By uploading photos, videos and documents, you can create an online portfolio.
Look at your privacy settings. Do you want everyone viewing your profile?
Check through your feed history, posts, tweets and photos. Are they appropriate and professional?
Keep your accounts and posts/tweets up to date
---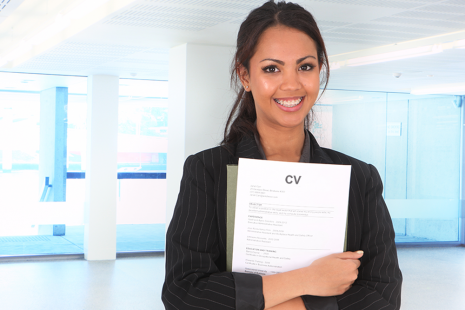 Build a CV
Make your CV the best it can be. Find out what to include in your CV, view example CVs, and download our Guide to CV writing.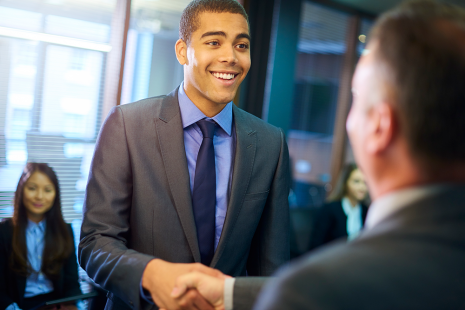 Interview techniques
Get help to prepare and practise interview questions, and find out what to expect in an interview.