You may think it takes a certain type of person to start a business. If you've got the right attitude, there's no limit to what you can achieve as your own boss.
Evan Davis, a presenter of BBC's Dragons Den, suggests that the personal qualities a typical entrepreneur would have are:
Confidence

Initiative

Determination

Resilience

A team worker

A risk-taker

A hard worker
Is self-employment for you?
Why choose self-employment? 

A lot of people are employed and they work for someone else.  Many others choose to work for themselves.

You might choose to work for yourself because:

You've got a great idea for a business that you think will catch on and make you money
You want to plan your own work and don't want to be told what to do
You want to set your own working hours because of things like childcare
What is self-employment ?

You are self-employed if:

You can decide when, where and how you do your work
You have more than one customer at one time
You sell goods or services for a profit
You can hire someone else to help you do your work
You provide the main items of equipment to do your work
You're responsible for getting work finished, even if you need to use your own time to do it
You agree and charge a fixed price for the work you do
If you run your own business and you're responsible for its success or failure, you're self-employed
What's the difference between self-employment and running a business?

Self-employed workers work for themselves. They decide when and where they work but not all will be running a business.

Some self – employed workers carry out projects or contracts but may not be the person who owns the business itself. Many workers in the construction industry such as painters and decorators, plumbers and carpenters are self-employed.

Some self-employed workers call themselves 'freelancers' particularly in the business, finance and IT sectors.

Running your own business is when you set up and/or own a company that sells products or services. You get to decide what you do and how you do it but it falls to you to make it work.
The "Gig Economy"

The "gig economy" is a term used to describe parts of the labour market where people are paid for every "gig" or job they do, rather than being paid a regular wage. Workers in the "gig economy" are often self-employed and can work the hours they choose.
The "gig economy" exists across a range of industries and services. Typical examples of "gig economy" workers would be delivery drivers in food delivery and taxi services.
The advantage of this type of work is that you don't have to work set hours.  You might find it easier to juggle with other commitments you have.
On the down side, you might not be able to work for a different company, meaning you're not so independent. Also, you won't have a guaranteed income.
How to get started in self-employment 

We've all heard of Sir Alan Sugar, Oprah Winfrey and Anita Roddick - all successful entrepreneurs. But don't forget the host of plumbers, shopkeepers, mechanics, hairdressers and others near you who also run successful, profitable small businesses.

The responsibility of being the boss can be pretty scary at first, but it doesn't have to be too scary. There's so much help and advice available to you in Wales.

There's everything from financial grants to free marketing advice. Who knows what you could achieve with the right help and some self-belief. Contact Business Wales to find out more.

1.    Work out your business idea

Your business idea can range from spotting a gap in the market to coming up with a brand new product or service. 

If you're having difficulty, ask your friends or family to brainstorm ideas with you. You may already have a great idea that just needs a little more thought and they may just add the finishing touch.

2.    Do your market research

Before starting up your own business, you should carry out market research. You'll need to work out that enough people will want to pay for your product or service for you to make a profit.

3.    Write a business plan

Use your market research findings to develop your business plan. You must have a business plan if you intend to apply for funding.

Look at Business Plan examples for free at BPlans.

4. Source finance for your business

Read advice from helpful business support organisations, some of which are listed below.
The Pros and Cons of Self-employment

Here are some of the pros and cons about being self-employed.

Pros:

You get the benefit of the work and effort you put in on a day to day basis
You'll be independent and have more control over what you do and when you do it
You'll be able to choose between working full or part-time. You can also set your own hours, and you can end up with a better work/life balance
If you've got a great idea, you can make it happen

Cons:

The responsibility for success or failure lies with you. You are responsible for losses as well as profits
You are unlikely to get paid holidays or sick pay
You'll have no one to manage you to keep you on track or provide support. You could end up working on your own for much of the time
You may have less time with your family as business commitments mean you work long hours
You will pay your own tax, and with no company pension scheme, you will have to plan your own pension
Some more start-up tips

Open a separate bank account for your business and keep records of all your income and expenditure right from the beginning
Start the business small, with minimum risks and costs
Always be looking to improve all aspects of your business, especially by listening to your customers. You'll be surprised how honest people are when you ask how you can improve your service
Never stop doing your market research, checking is your Unique Selling Point still unique? Your Unique Selling Point sets you and your business apart from your competition. Put simply, it's why customers buy from you rather than from the others
Give the best customer service possible. Always treat customer complaints seriously - and put them right
Don't be afraid to ask questions of people in the same business field
Find friends and family members that can help you in particular aspects of your business, such as web design, graphic design, photography and press contacts
Don't be afraid to try out ideas or approach new people or shops. The worst that can happen is that they say no
---
Take time to plan
Ask yourself the following questions to help you decide if self-employment is right for you:
Do you know exactly what you're going to do?
Does it use your strongest skills?
Can you make enough money doing it?
Do you know where you want to be in five years' time? Will self-employment help you get there?
If you're unsure whether self-employment is the career option for you, contact Careers Wales to arrange a chat with an adviser. If you want to find out more about self-employment, contact Business Wales.
Get help
Contact Business Wales to get free business training and start-up advice, including:
Getting help to write a business plan
Information on things like business insurances, tax and national insurance you'll have to pay
Checking where you stand legally on issues such as health, staff employment and intellectual property rights
The Development Bank of Wales is backed by Welsh Government and can offer finance to new and growing businesses. They might be able to help even where other lenders could not.
Find out more about the Development Bank of Wales on their website.
More helpful organisations
---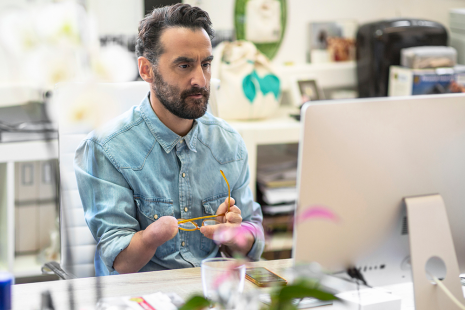 Employment Support
Find out about support to help you into work if you are disabled or have a health condition.