Discover resources to help you as a parent or guardian to support your children with careers education.
Use our range of resources including webinars, workbooks and activity sheets to help your children with:
Getting an insight into careers in different sectors
Discussing their career ideas
Achieving career goals
Careers in different sectors
View webinars and use the workbooks with your child to help them get an understanding of what it's like to work in different sectors.
---
Advanced Materials and Manufacturing
---
---
---
---
---
---
---
Social care - early years
---
---
---
Year 7-9 Job Matching Quiz Resources
Use these resources alongside our Job Matching Quiz. Job Matching quiz is a quiz that matches your child's skills and interests to over 700 job titles.
---
Primary resources 
Buzz Quiz - personality quiz
Use these primary resources alongside the Buzz Quiz to help your child understand their personality type and the jobs that might suit them.
---
Job Information
Use the 'Jobs I like to do' resource with Job Information which contains careers information on nearly 800 job titles.
---
---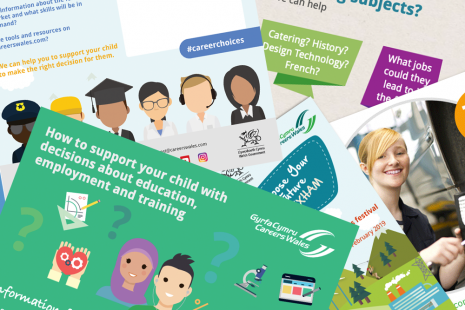 Careers Wales promotional materials
Find posters, booklets and leaflets for careers professionals and parents to help students plan their careers and find out about the support offered by Careers Wales.